Teri and her friends on their way to the Yadkin Valley!.
Teri and her group decided to do a 6 hour tour leaving from the Concord area. With only 6 ladies total, it was somewhat easy to stick to our timeline.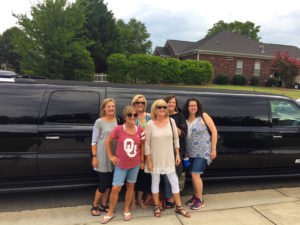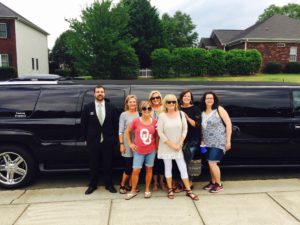 Our Chauffeur Nick assisted in taking photos and loading up all of the goodies into the limo. We arrived at the residence at approx. 9:45am in order to leave by 10am. Mimosas and great music kept Teri and her friends entertained on the 1.25 hour trip to Shadow Springs.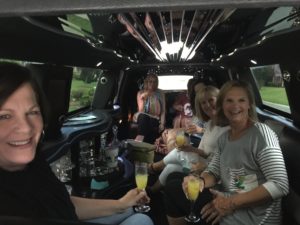 Shadow Springs: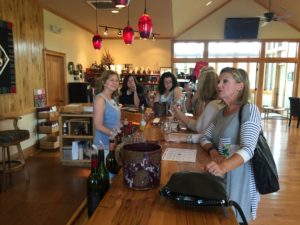 Jaime (in the blue)  and Chuck Johnson are the owners of Shadow Springs Vineyard.
The tasting room opened in June of 2008
Our 2011 grape harvest was close to 40 tons
In August of 2011 we sold the Yadkin Valley Wine Company and in December we purchased the vineyard and winery from Buck Shoals and opened Windsor Run Cellars in March of 2012
SSV was founded in January 2005 with the purchase of pristine farmland in Hamptonville, NC.
Our first planting was in April of that same year. We planted 2 acres of Merlot and 2 acres of Cabernet Franc.
 The following year we planted 6.5 more acres which consist of 1.5 acres of Seyval Blanc, 1.5 acres of Chardonnay, 1.5 acres of Viognier, 0.5 acre of Chambourcin, 0.5 acres of Petit Verdot and 1 acre of Cabernet Sauvignon.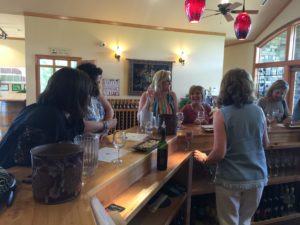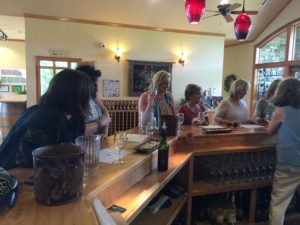 Having their first tasting of the day!
Shadow Springs offers plenty of indoor and outdoor areas to enjoy lunch. Tasting fees here are between $10-$12.
To read more about Shadow Spring's wines click HERE.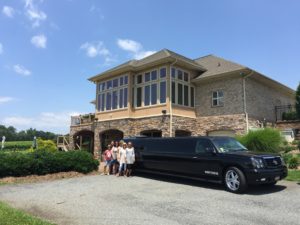 We pre-ordered lunch from the local Amish Deli- Shiloh General Store. The menu is available HERE and the sandwiched are only $6!
Leaving Shadow Springs. This is a view from the back of the tasting room.
Laurel Gray: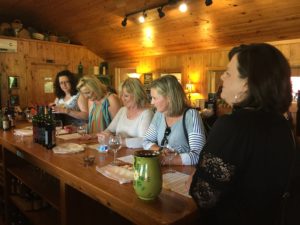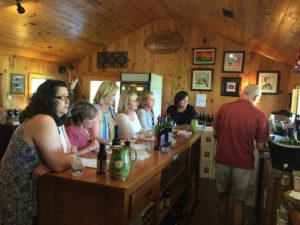 Located about 6 minutes away from Shadow Springs is Laurel Gray.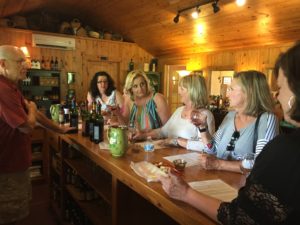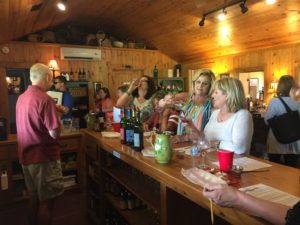 Nestled in the Yadkin Valley area of North Carolina lies a delightfully Southern vineyard and winery, located on farmland that has been nurtured by the Myers family for 10 generations. With the dream of preserving the family farm for future generations, Benny and Kim Myers planted their first grapes over 13 years ago and converted the old milking parlor into a tasting room. Named for the Myers' two children, Ashley Laurel and Taylor Gray, Laurel Gray Vineyards' award-winning wines are sold exclusively in the tasting room and on our website. We would love for you to become part of the Laurel Gray family.
For a virtual wine tour at Laurel Gray Vineyards, click HERE!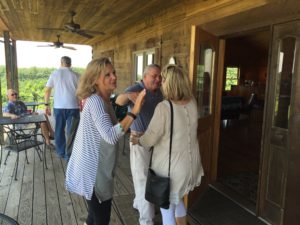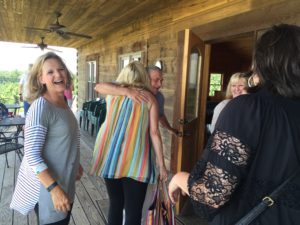 Giving the owner Charles a big hug! Even though the day was very warm, the breeze at Dobbins creek was very refreshing!
Dobbins Creek Vineyards is set against the backdrop of the beautiful Swan Creek and Brushy Mountains area in the Yadkin Valley.  Our vines first took root in 2002 with additional plantings in 2003, 2004 and 2006.  In 2006, we started construction of our  German style log Tasting Room which was completed in late 2007.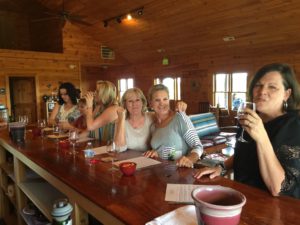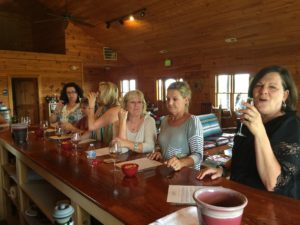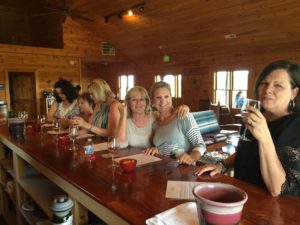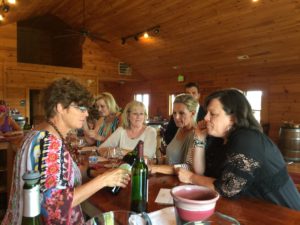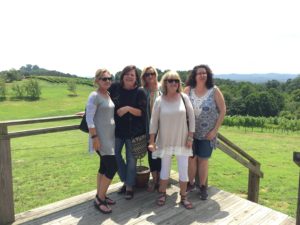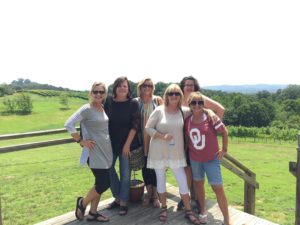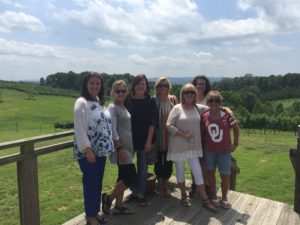 Outside Dobbins Creek- beautiful view!!
Info about each winery:
Tasting fees:
Shadow Springs: $10-$12 per person
Laurel Gray: $8 per person
Dobbins Creek: $6 per person
All include the glass as a keepsake!
Lunch at Deli: $6 per person (orders due 1 week prior to tour please).