When choosing the right transportation for your limousine wine tour, please keep these things in mind:
Allow for extra room in the limousine. It may be a long ride (depending upon your pick up location), so you and your guests will want a little extra room to be comfortable! Most people also bring a few things, such as cameras, coolers, and a light sweater/jacket. These things require a little extra room.
We want the limo to be perfect for you, to smell nice and to be clean. Therefore, we do not allow food in the limousine, so please have a filling breakfast. (If you have ever been in a mini-van where food is permitted, you will understand why we do not allow food!)
Please drink extra water while on your limousine wine tour- especially during the hot summer months! We don't want you to feel miserable the next day!
 What is included in the price of the Limo Wine Tour?
Johnny B's Limousine Service will do all of the planning. We will call the wineries and make your reservations.
We can pre-order you lunches at the deli, for your convenience.
We have helped to plan hundreds of successful limousine wine tours. We fully understand the complexities of the day, and are delighted in being able to share our expertise with you!
Tasting fees will be determined prior to your tour. We have had many tours where one or two of the guests do not want to partake in some of the tastings, therefore we do not include these fees in our pricing.
Lunch can be easily set up for your party. The Shiloh sandwiches are $6.00 per person, and the restaurants vary in pricing.
(Usually about $20 p/p including beverage)
No extra fees- unless your pick-up location is outside of our usual pick-up area.
Gratuity for the Chauffeur is at your discretion but is typically 20%.
---
VINEYARD TASTING FEES:
To keep your limousine wine tour on schedule, we highly recommend all your guests having their tasting fees in cash.
Ideally the hostess will have collected their cash that morning, and can give it to the chauffeur.
The chauffeur will then pay for the tastings at each vineyard.
It becomes time-consuming to have each guest pay on their credit card $5- $12 at each vineyard….
Of course, purchases at the vineyards may be done individually.
---
For your convenience, our most common customer questions are answered below.
Not finding what you want? Reach out directly through our Contact Us page.
Q: Why do we not fill the limousine to capacity?

A: Typically, you will be riding in the vehicle for more that one hour in each direction. It is important for you and your guest's comfort to have a bit more room around you.
Q: Are the tasting fees for the wineries included?
A: We will determine which wineries your group will visit with your help. Many times there will be guests who want to skip one of the wineries. Each winery sets their own tasting fees, and they are apt to change without notice. We do ask that you collect the pre-determined fees in cash from your guests and hand the total to your Chauffeur when he arrives. This eliminates the need for all guests to stand in line.
Q: Do all of my guests have to pay tasting fees even if they do not want to partake?
A: No. Only those who are actually tasting have to pay the fee. We have had many tours where one or more of the ladies were pregnant or nursing. We are able to accommodate any of their needs as well.
Q: Do you only go to the Yadkin Valley area?
A: No, we can go to any winery that you would like to visit! Our only constraints are winery hours of operation, and how many hours you would like your day to be. We find it convenient for people to choose one winery and we can find a couple additional vineyards close by. Some groups would rather not travel too far before their first tasting. There are over 150 wineries in NC at this point, so our options are plentiful!
Our Limousines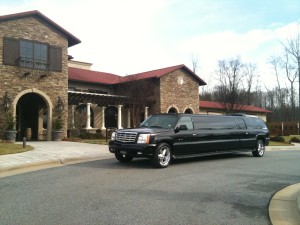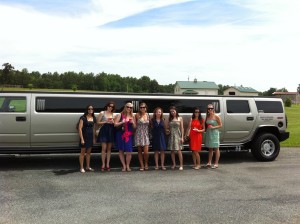 Lincoln Stretch Limo
2tv's, dvd, cd, iPod hook up
Premium Sound System
Starlight Ceiling
5 CoolersCrystal
Cut Stemware
Escalade Stretch Limo
3 plasma TV's
Granite Bars
Lasers, Strobe, Fiber Optic Lighting
Upgraded Sound System, DVD, iPod Hook-up, Bluetooth
Ample Room in Rear Luggage Compartment, Custom Rims
Silver Hummer Limo
3 Flatscreen TV's
Wrap-Around Seating
2 Large Coolers
Crystal-Cut Glassware
Upgraded Sound System
Ipod Hookup, DVD Player, Bluetooth
Fiber-Optic Ceiling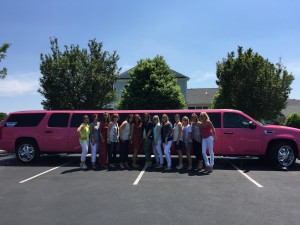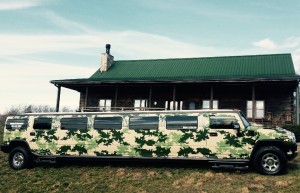 Pink Escalade Limo
5 Flatscreen TV's
Wrap-Around Seating
2 Large Coolers
Upgraded Sound System
Ipod Hookup, DVD Player
Fiber-Optic Ceiling
Camo Hummer Limo
2 Flatscreen TV's
Wrap-Around Seating
1 Large Cooler
Upgraded Sound System
Ipod Hookup, DVD Player, Game System
Fiber-Optic Ceiling
Limo Bus
Large coolers may be provided
3 Bar Areas with Glassware
Huge Cabin Interior with Ample Room
 Water, ice, napkins, and glassware/plasticware are included in the pricing of all of Johnny B's Limousine Wine Tours.
Gratuity for the Chauffeur, tasting fees for the wineries, and lunch are not included.